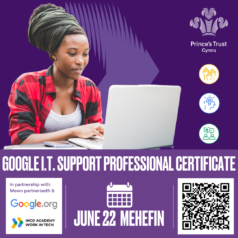 Google IT Support Professional Certificate 18 – 30
Wales-Google-IT-poster

Information Technology giant, Google and, in the UK, is solely being run by the Prince's Trust, the Google IT Support Professional Certificate.  Via an 18 – 30online learning platform, this industry recognized, modular accreditation, provides young people, 18-30, with the skills and knowledge to apply for employment within the IT Support sector. The programme contains a strong guided, self-learning element and there will also be fortnightly progress meetings with the Prince's Trust where additional structured sessions will help the young people work towards a career in IT. 
Throughout 2021, Prince's Trust will be offering many young people an opportunity to participate in this fantastic programme! To facilitate this, we have created our new Prince's Trust Digital Learning Hub which is the way for young people to find out all the details they need about the programme and register their interest.
We are looking for three things: –
An opportunity to chat to you informally about the programme and answer any questions.
Any opportunity to chat to young people you are connected with about the programme. This could be via a Microsoft Teams meeting or face to face, just let us know what works best for you.
The next Google IT Certificate programme commences on Tuesday 22nd June 2021, so we want to ensure young people know about the programme as soon as possible. We would therefore be grateful if you would circulate this information to young people who you think would be interested. The following link gives them access to Prince's Trust Digital Learning Hub  Google IT Support Professional Certificate Group 2 – June 2021
Space on each programme is limited, so early sign up is encouraged.
The Consulate-General of Portugal in Manchester would like to inform you that, during the next outreach consular visit to be held in Cardiff between the 31st May and 04th June, advisors from Citizens Advice Cardiff and Vale will be attending,
These advisors will be available to provide information, guidance and support to the Portuguese community residing in Wales to submit their applications to the EU Settlement Scheme. The support is free and confidential, and is available to any interested citizen, regardless of whether they have an appointment for consular services.
This is a joint initiative from the Consulate-General of Portugal in Manchester, and Citizens Advice Cardiff and Vale, included on the EU Citizens Right project developed by Citizens Advice Wales.
The EU Citizens Right project is funded by the Welsh Government, and provides fee, confidential and impartial support to EU, EEA and Swiss citizens with settled, pre-settled status applications and also offers access to wider advice services, including specialist advice. For more information about the project, please click here.
Address: Mercure Cardiff Holland House Hotel, 24-26 Newport Road, Cardiff, CF24 0DD
Dates: 01st to 03rd June (9:00am until 1:00pm and 2:00pm until 4:30pm) / 4th June (09:00am until 11:am).
NOTE: Consular services will remain subject to prior appointment, by sending an email to consulado.manchester@mne.pt with the indication of "PC CARDIFF" in the subject field of the email.
Have you heard the news? gofod3 – the biggest voluntary sector event of its kind in Wales – is back. Taking place online between 28 June and 2 July, this gofod3 is lining up to be the best yet.
With over 60 free events to choose from, including masterclasses, panel debates and workshops, there's something for everyone – from trustees and staff to volunteers.
We've all struggled this year – some more than others – and we want to offer you the space to take stock, learn about the things that are important to you, and offer you the opportunity to develop new skills and knowledge to help navigate our new working landscape.
Mark your diaries now! Registrations will open at the beginning of next month.
As we celebrate National Learning at Work Week, here's a sneak peek at just some of thesessions that can help support you and your team's development:
Workshops by The Open University in Wales on topics such as professional development
Masterclasses on attracting funding and working with compassion
Seminars on remote working and negotiating your lease in a Covid world
Discussions on volunteering and wellbeing, and communicating impact
gofod3 is unique to Wales, and throws a spotlight on the valuable work we do in the voluntary sector across Wales. This past year has demonstrated the importance of the voluntary sector – we have never been more needed than now, and gofod3 is our space to reflect and kick-start our plans towards building back better in Wales.
Please join us.
Get the latest updates on gofod3 by signing up for WCVA's weekly newsletter.
WCVA Events Team
Please contact by 28th May
Virtual wellbeing drop in sessions we run at The Prince's Trust.  'Mindset Matters' are weekly evening sessions which take place every Wednesday at 6pm on MS Teams.
MM-Planner-May-2021

Eligibility:
Ages 16-30s
Living in Wales
Access to a device which is compatible with MS Teams
Young people can be completely new to the Prince's Trust OR already be engaging with us.
Each session focuses around 1 of the 5 steps to wellbeing:
'CONNECT'
'BE ACTIVE'
'KEEP LEARNING'
'GIVE TO OTHERS'
'MINDFULNESS'
The sessions enable young people to meet others in a safe space, with the aim to enhance a better understanding of how they could improve their own wellbeing.

Background:
Mindset Matters was established back in September of last year in response to the alarming rates of young people in Wales feeling socially isolated, lost and unsure of what to do next as a result of the pandemic. The beauty of these sessions allows young people to make decisions of whether to attend, based on the sessions being 'drop ins' as well as having access to a monthly mindset matters calendar so young people know what to expect each week (please see a copy of the May calendar attached for reference).
SO…
Are you working with young people who want to connect with other young people in a safe space in the comfort of their own home?
Are they looking to improve their wellbeing?
Would they like to make positive changes?
Please drop an e-mail to myself or my colleague jonathan.davies@princes-trust.org.uk  if you have any questions or would like to refer a young person.  


The Princes Trust are running an online Summer Programme known as 'EXPLORE' It is a FREE 6 week course being delivered on Tuesdays, Wednesdays and Thursdays completely online via Microsoft teams. We have 12 spaces available.
The young people will have an opportunity to gain their Level 2 Food Hygiene Qualification and complete the Nationally recognised 'John Muir Award'. The John Muir Discovery Award is an environmental award scheme. It is non-competitive, inclusive and accessible based on; Discovering a local wild space, exploring it, working to Conserve it and sharing their experience with others. We have found it especially benefits young people in building confidence, self-esteem and social skills.
Dates
Programme Tuesday 25th of May – Thursday 1st of July (Times TBC but likely between 11am-1pm sessions will run between 1-2 hours a day)
Criteria
Living anywhere in Wales
Unemployed/Furlough or in part time work/part time education
Aged 16-25
Access to a Computer/Laptop
Must use camera throughout the programme
On this course young people will be
Completing Level 2 in Food Hygiene Qualification. This qualification is well recognised in various settings not just hospitality.
Complete Nationally recognised 'John Muir Discovery Award'
Activities based around the NHS 5 steps to wellbeing
L'Oréal created sessions around confidence and communication
Understanding Healthy eating and the eat well guide including receiving a voucher to buy food and make meals
Fun interactive activities, quizzes and group discussions around various relevant topics
Connect with other young people
Be offered 1-1 support throughout and for 3 months after the course
Gateway on to other Princes Trust Programmes
This is an online course. Young people will need access to the internet and capability of joining Microsoft Teams and be available for the 3 days per week
If you would like to refer someone please get in touch or to sign post a young person, they can enquire by commenting on our Facebook page PrincesTrustCymru. Or call customer services – 0800 842 842 and they will be booked straight on to the Taster Day.