Thinking of working with the Police?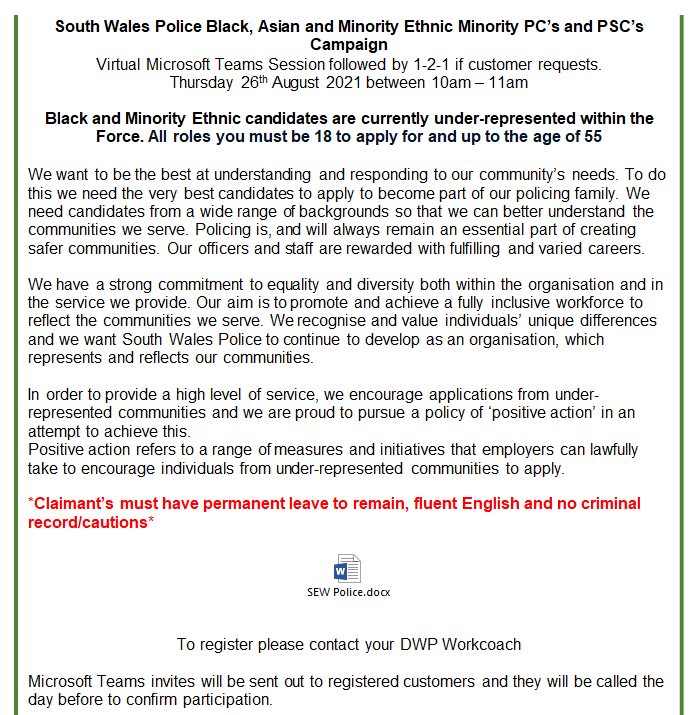 Black and Minority Ethnic candidates are currently under-represented within the Force.
Police Officers (PC) are a vital link within the community. PC's work hard to make people feel safer within their area. Their vision is to be the best at understanding and responding to the needs of the community, to protect the most vulnerable, catching criminals and keeping the public safe; whilst abiding by the Policing Code of Ethics.
PC – degree preferred but can still apply without. There will be an online test to complete. An exciting and varied role.
What can South Wales police offer you A place on the 10-week training course. Your starting salary will be £21,402– £27,030 plus shift allowance and weekend enhancement. Annual Leave of 22 days (increasing with length of service) plus bank holidays or time in lieu. Training and development opportunities Enhanced Maternity, Paternity pay and Adoption Pay.

Career Break – Staff can apply for a career break (after 2 years' service)
Support and advice from Occupational Health and a range of staff associations and access to a range of services – Charitable Trust and Police Mutual Childcare Vouchers Scheme – which can be used to pay for approved childcare providers. Access to subsidized gym Cycle to work – obtain a new bike to travel to work through your salary saving tax and national insurance.
Public Service Centre Call Handler (PSC) provide a vital service to the public of South Wales, often in situations when they need it the most. The PSC deals with 999 and 101 calls from members of the public from our centre in Bridgend, which operates 24 hours a day, 365 days a year.
All roles you must be 18 to apply for and up to the age of 55
We want to be the best at understanding and responding to our community's needs. To do this we need the very best candidates to apply to become part of our policing family. We need candidates from a wide range of backgrounds so that we can better understand the communities we serve. Policing is, and will always remain an essential part of creating safer communities. Our officers and staff are rewarded with fulfilling and varied careers.
We have a strong commitment to equality and diversity both within the organisation and in the service we provide. Our aim is to promote and achieve a fully inclusive workforce to reflect the communities we serve. We recognise and value individuals' unique differences and we want South Wales Police to continue to develop as an organisation, which represents and reflects our communities.
In order to provide a high level of service, we encourage applications from under-represented communities and we are proud to pursue a policy of 'positive action' in an attempt to achieve this.
Positive action refers to a range of measures and initiatives that employers can lawfully take to encourage individuals from under-represented communities to apply.
Claimant's must have permanent leave to remain, fluent English and no criminal record/cautions