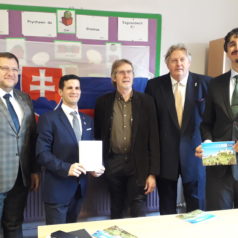 His Excellency L'ubomír Rehák visited SRCDC – Director Neil Binnell welcomed the ambassador to the centre – in Brunel St.
SRCDC is always open to forging new links from all countries of the world and communities.
His Excellency L'ubomír Rehák , Steve Garrett (Trustee), Nigel Payne – Honorary Consul in Wales.
The abassador has been prominent in visiting places in Cardiff and has been keen to learn about the education system and cultural aspects of living in Wales.
Previously he has visited Corpus Christi High School and had delivered a lecture to the staff and students at Cardiff Met, Slovakia has a number of students studying in Cardiff.
The BBC are holding a recruitment event in Brunel St Hall for local residents @SRCDC_Cardiff on Tuesday 28th January drop-in from 2 pm – 6 pm.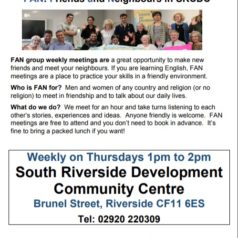 @SRCDC Brunel St Hall CF11 6ES
Meet make friends, share a brew, bring some food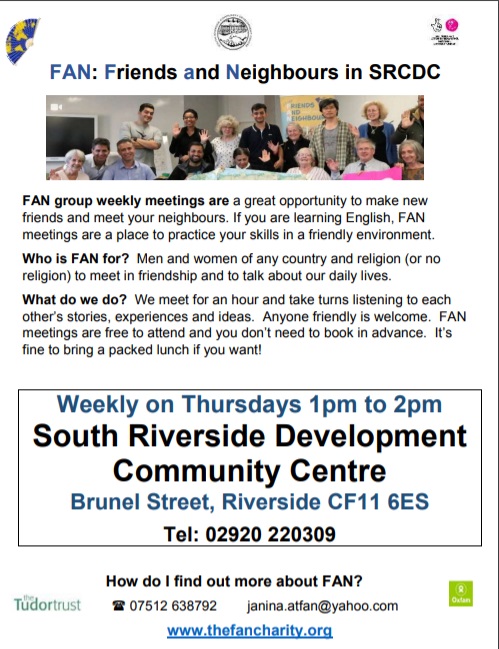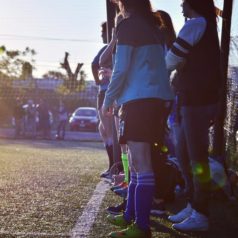 The Project will work with over 150 BAME girls in the community aged 10-16 to build their skills in sports activities which are traditionally male sports such as Cricket, Golf, Football, Cycling, Taekwondo, Baseball and Ice Hockey.
SRCDC with thanks – to funding from the Tampon Tax Community Fund


Tampon-tax-community-fund
This will help girls identify future opportunities and enhance their aspirations beyond traditional gender roles.
The Project will develop interests in coaching and raise aspirations eg currently there are no female cricket umpires in Cardiff at present, coaching is presently promoted as a male only option.
The taster workshops will be over 10 weeks and facilitated by a Sports Coach (female) and accompanied by a Female Sessional Youth Worker.
Trips to matches and events will also take place after the workshops.
23rd Jan 2:30 – 5pm
Open Day SRCDC 2020 Brunel Street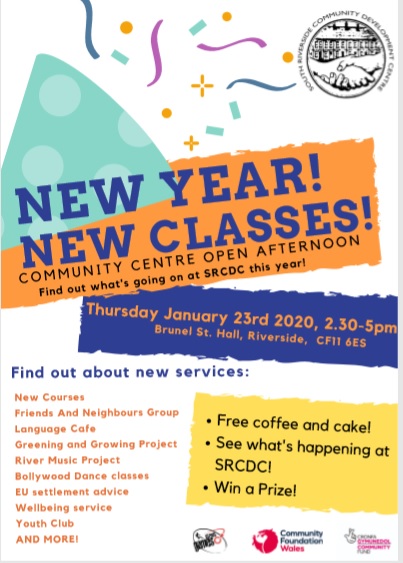 In association with
http://www.cardiffandvaleuhb.wales.nhs.uk/public-health-dietetic-team
The Public Health Dietetic Team is a team of Registered Dietitians and support workers. Part of the Cardiff and Vale UHB Nutrition and Dietetic Service. Support and develop new initiatives which enable people to make healthy food choices.
5 out of 7 completed their Get Cooking course today. Well done all.
Things that you said you have learned  and surprised you.

Course participants
Eating healthier
new recipes
working in a team.
Changes you have made :
Getting out of the house
making new friends
practising English.
All agreed that they are now eating less salt, less sugar and drinking more water. Great result. A big thank you to the Health & Dietetics Team.
You are all amazing.

Sharon Krause – Credu/Believe
10 women attended the 1-1 cycling lessons in partnership with Pedal Power
https://www.cardiffpedalpower.org/ and Welsh Cycling
https://www.britishcycling.org.uk/wales – @WelshCycling this week.
Some had never been on a two wheeled bike before and others had never been inside Pontcanna fields before.
These women are getting out in the fresh air, learning to ride a bike, making new friends, exploring new places, being outdoor, practising English and laughing with their friends.
This is a great way of de-stressing and thinking about the future.
Any BAME ladies interested cycling meet @srcdc Mondays at 12.30pm.
Ladies, from Canton, Riverside and Grangetown.
The Believe – Credu project, is supporting BAME ladies, with caring or childcare responsibilities, both to meet up socially and learn new skills.