VEST and volunteers have been enormously important in distributing food to those in need; and those shielding – this continues at this important time.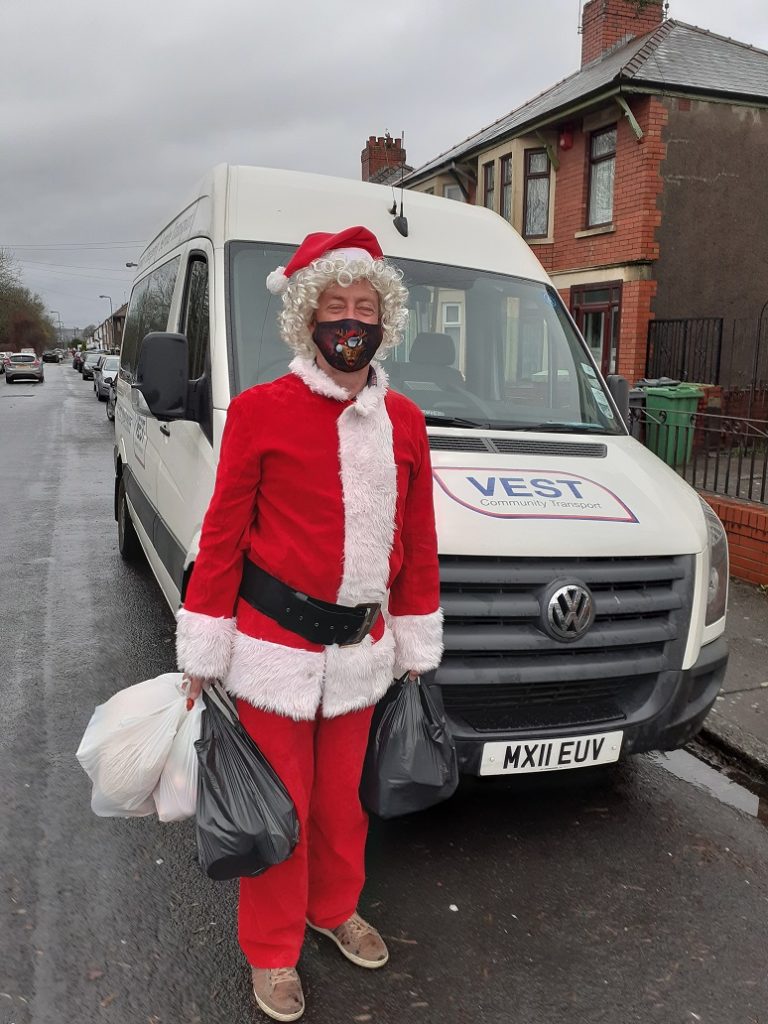 The elves have been busy:
More importantly – Shaun was handed this note: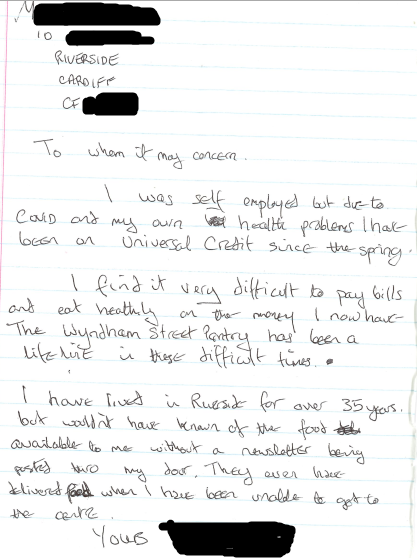 In this digital age also shows the vital importance that a printed newsletter can also have.

If you know someone who needs help and who is not able to access the internet please pass on the Cardiff Council Advice line number:
029 2087 1071

Lines are open:
Monday, Tuesday, Wednesday and Friday from 9am – 6pm
Thursday 10am – 7pm
Saturday 9am – 5.30pm​

They can help with a range of issues including:
accessing food and essential items,
benefits and income,
help with debts and
Into Work and Universal Credit advice.​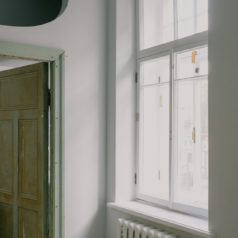 In Cardiff and the Vale of Glamorgan.
ACE – Action in Caerau and Ely and Care & Repair Cardiff and the Vale are teaming up to raise funds to support vulnerable people across Cardiff and the Vale of Glamorgan facing a heating emergency this winter. 
https://localgiving.org/appeal/winter-fuel-crisis-cardiff/
The winter fuel crisis fund will pay for boiler repairs and emergency heating (e.g. electric radiators) for vulnerable people who cannot afford to heat their homes this winter. Working alongside other services providing ongoing support, this fund will provide a quick-response safety net for people in crisis who cannot afford to wait for a lengthy grant application to be processed, or who are not eligible for DAF.
How the fund works: 100% of donations will be held securely at ACE and then distributed via ACE's community support team and Care & Repair to provide emergency heating solutions to vulnerable people in Cardiff and the Vale. We will use pre-approved contractors for boiler repairs and take all precautions to ensure the safety of vulnerable people during the pandemic. ACE and Care and Repair already have infrastructure in place to enable them to quickly respond to heating emergencies with specific small grants.
We are hopeful that, alongside smaller donations, some people who receive the Winter Fuel Allowance from DWP but do not personally need it might consider instead donating it to this fund to help people who cannot afford to keep their homes warm.
Thank you for your support in raising awareness of this appeal – donations from your contacts could make all the difference for people in need this winter.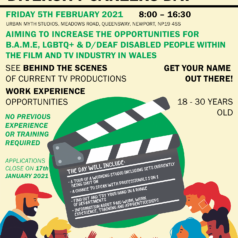 In Newport (NP19 4SS) on Friday 5th Feb – apply by 17th Jan
For more info email the organisers see bottom of the posters below:
Channel 5's and 5star's hit cleaning show is looking for people across the UK who are in need of some professional help keeping their homes clean, tidy and clutter-free.
Filming in December this year until February 2021, this series sees expert cleaners clean each home in just four days and then gives each of our participants tips to keep their home clean for good. For more information, please email cleaning@flyingsaucertv.com or fill in an application form here https://form.jotform.com/201614460158348 . Any questions please give us a ring on 02037614518.
Filthy-House-SoS-PDF-for-print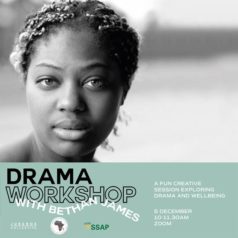 Jukebox Collective are working in partnership with Sub-Sahara Advisory Panel (SSAP) to deliver a free series of creative workshops exploring mental health. Designed to introduce participants to the positive effects creativity can have on wellbeing, the workshops will run between December 2020 – March 2021, covering a variety of creative disciplines – from dance, to drama, to writing & more! Each session will be led by an inspirational guest tutor with professional experience in their field, and there will be options for both young people and adults.
SSAP-Jukebox-Collective-Workshop-Information-Pack

Vacancies – Reducing BAME Employment Gap
Week Commencing 30th November 2020
Team Leader EO – Surge and Rapid Response Team – Cardiff HMRC
Apply via Civil Service jobs – Ref 79390
Candidate Pack Online application process with two online tests: Numerical Reasoning and Civil Service Judgement tests. The online tests for this vacancy are not timed and there are no restrictions on how long people take to complete them, but they must be fully submitted before 11.30am on the closing date.
HMRC have vacancies for 100 Assistant Officer's in HMRC Customer Service Group.
Salary £19,550 – £21,020,Pro-rata for Part-time; Grade Administrative Officer
Contract type Permanent.
For full job description and candidate pack click on the link below
Amazon – Avonmouth & Swansea
South Wales Police – Current Vacancies – can be found here
Vale of Glamorgan Council Vacancies – Vacancies
Newport City Council – Cyngor Dinas Casnewydd
royal-air-force-flies-national-apprenticeship-awards
Royal Navy continues to offer apprenticeship opportunities,
careers/levels-of-entry/apprenticeships
Office for National Statistics Recruitment Facilitator Vacancies England & Wales ONS Census 2021 contract.
Adecco/ONS are hiring thousands of people in a range of exciting temporary roles to make Census 2021 a success.
Recruitment Period: 2nd November 2020 – 16th February 2021
Census Stage 2 Recruitment Jobs Available.
Welsh Speakers urgently needed
All information on the microsite (www.censusjobs.co.uk)
Roles:
Community Engagement
Managers
Supervisors
Officers
When JCP customers apply on the microsite (www.censusjobs.co.uk) candidates must ensure they select 'DWP/JCP' in the source field. (Drop-down options relate to 'How did you hear about us?')
Candidates must have Right to Work documents
The census roles are being designed to safeguard the health and safety of all candidates and staff. We are doing everything reasonably practical to reduce any risks caused by Covid-19