At Riverside Festival using a smoothie bike also known as a juice bike – young people and a few of more mature years had some great fun turning fresh fruit – a big thank you to Tesco in Cowbridge Road for the large box of bananas – and yoghurt into some really healthy drinks. The machine as you will see from the picture is a stationary bike that uses the cyclists pedal energy to drive the blender. Fruit & yoghurt goes into the blender receptacle, and after approximately 30 seconds of pedalling; aka useful exercise; one lovely nutritious drink has been made. Research has been shown that exercise can raise participants mood; and also can help with cardiovascular fitness. Some people even have fun doing this activity.
This activity has a low carbon footprint – SRCDC could considering introducing 'energy bikes' to power the lights in the centres – if enough volunteers can be persuaded!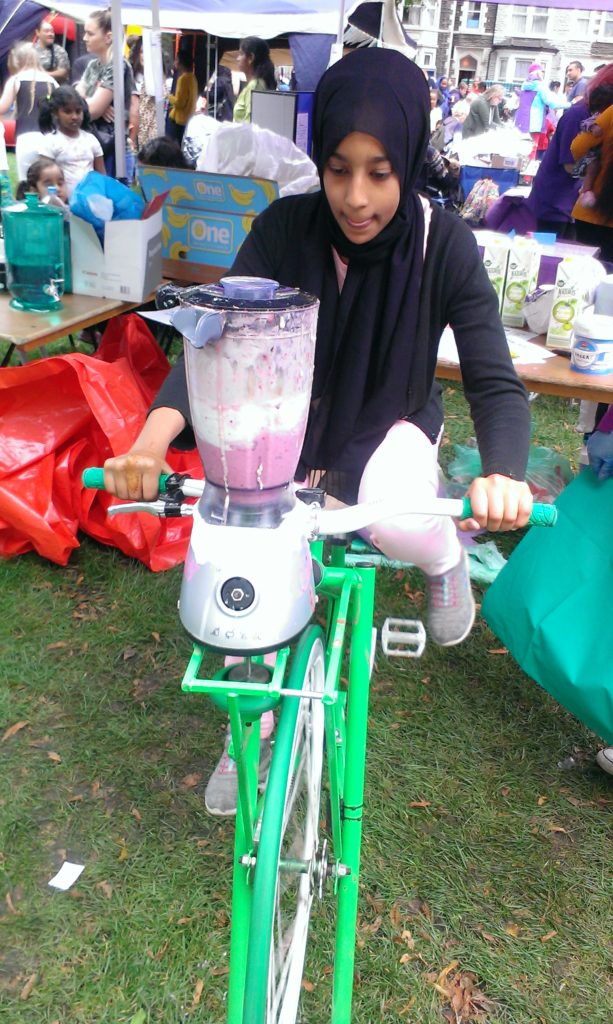 People Power – nutritious fayre and great exercise – put a smile on your face while keeping fit and healthy!
Believe – Credu – Project Worker Sharon Krause a regular cyclist has no problems with the juice bike.