SRCDC joined with other organisations to celebrate 25 years of grant giving.
The National Lottery Community Fund is the biggest community funder in the UK.
Organisations gathered in the Senedd to highlight some of the great projects that we've previously funded and to answer any questions on how communities can access our grants.
SRCDC at the Sennedd.
What do you want from the community facilities in Riverside?
Come along let us know.
On 11th September as part of Danielle's play, research and development, a group of attendees listened to the play in development – this was followed by an interesting Q andA.
Chief, arriving as a seaman; as many did; and settling in Wales – Danielle re-tells scenes of discovery; memory; and events that resonate greatly today.

The tension within families, generations and cultures – ultimately dividing a family.
Now a third generation migrant Danielle draws from a rich vein of episodes from her families' story.

Many of the scenes evict both an emotional and introspective response within the audience.

Danielle Fahiya's family came on a journey to Wales and Danielle ended up here in Cardiff she now is a professional actress and playwright. She is of Jordanian, German, Welsh and Somalian descent.
With the support of many people: she was awarded an @Arts_Wales_ grant for her play telling the story of her family's migration to Wales.
Footsteps in a Foreign Land promises to be a powerful reminder and redolent of the present world.
This play in development is shortly to be shown in a community setting at the Riverside Warehouse in Cardiff on the 13th September at 11 am.
Chapter will host a later showing at 4pm.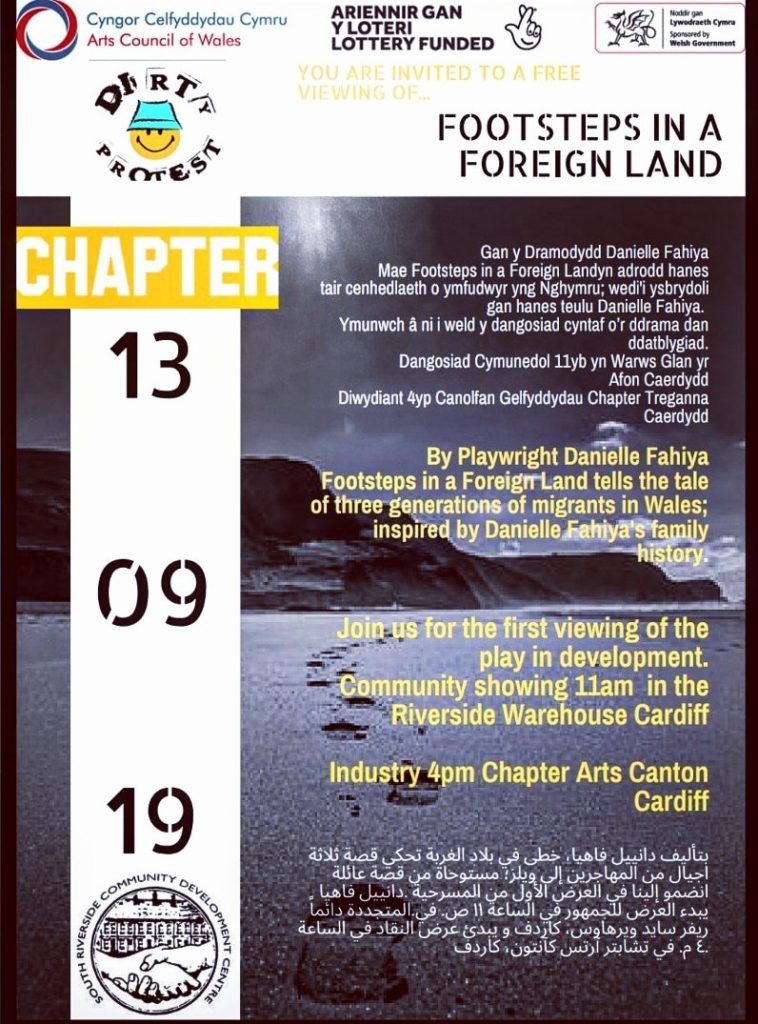 Great news – from September, on Tuesdays, children in Riverside will be able to benefit from some fabulous after school activities.
This Thursday will be the last session for fit and fed this summer so Ranu is setting up some nice surprises for the kids to try, with the support of some local businesses – with something for the kids. Two businesses: Jannat Sarees have promised a big cake; One Stop Shop in Grangetown will surprise us with a box of goodies; hopefully both Clare food store and the local Spar will also be generous.
Some of the children have expressed a interest in boxing, and Ranu is approaching a local sportsman to come and show the kids some combinations and few tips.
A football coach whom currently runs coaching for kids will come in and have a kick about.
The younger children will be able to do art in the activity room. Thanks to the volunteers who have offered their time for this.
At Riverside Festival using a smoothie bike also known as a juice bike – young people and a few of more mature years had some great fun turning fresh fruit – a big thank you to Tesco in Cowbridge Road for the large box of bananas – and yoghurt into some really healthy drinks. The machine as you will see from the picture is a stationary bike that uses the cyclists pedal energy to drive the blender. Fruit & yoghurt goes into the blender receptacle, and after approximately 30 seconds of pedalling; aka useful exercise; one lovely nutritious drink has been made. Research has been shown that exercise can raise participants mood; and also can help with cardiovascular fitness. Some people even have fun doing this activity.
This activity has a low carbon footprint – SRCDC could considering introducing 'energy bikes' to power the lights in the centres – if enough volunteers can be persuaded!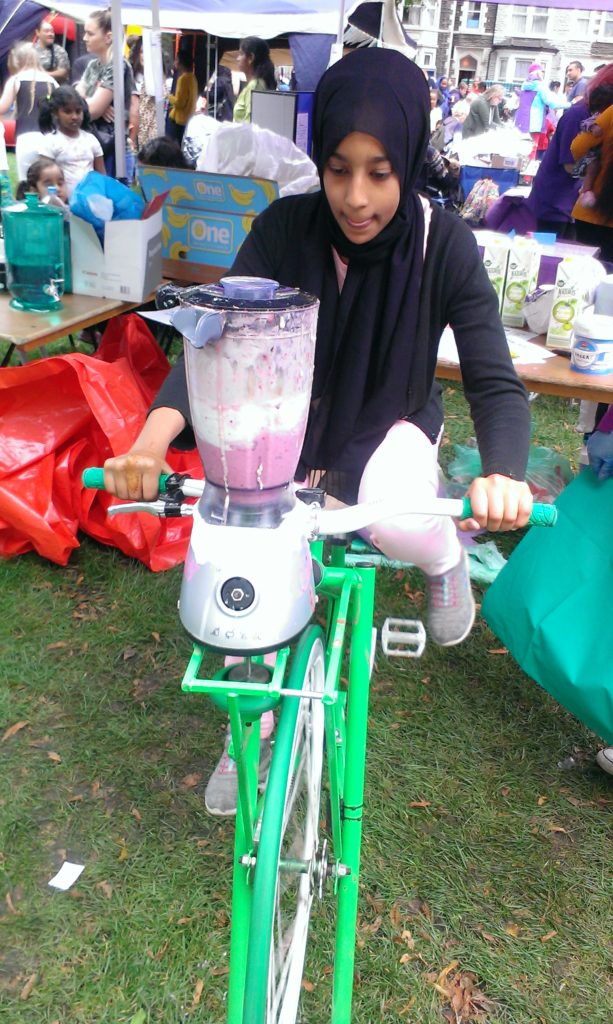 People Power – nutritious fayre and great exercise – put a smile on your face while keeping fit and healthy!
Believe – Credu – Project Worker Sharon Krause a regular cyclist has no problems with the juice bike.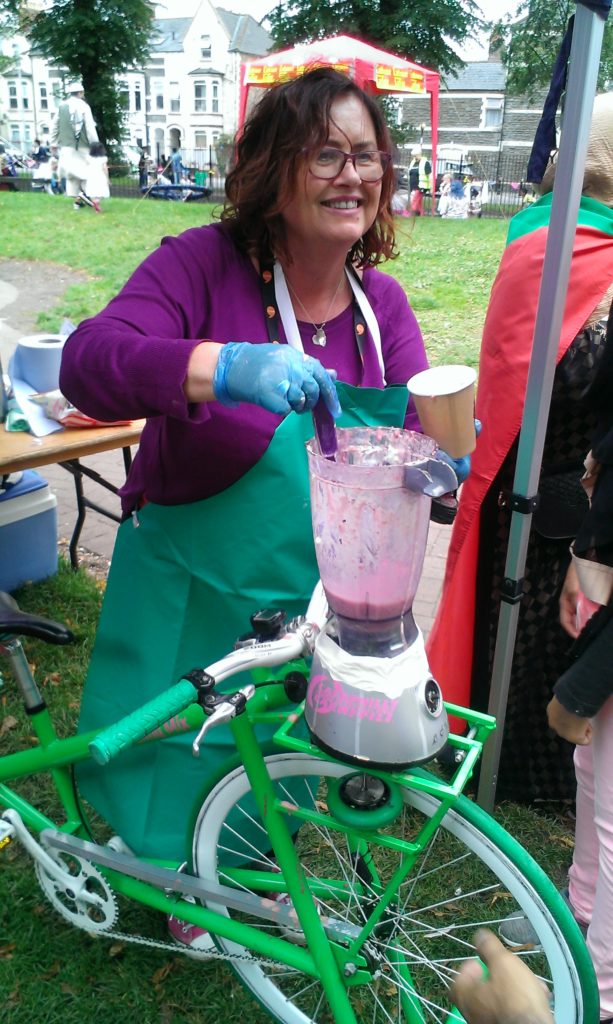 Week 4 of the Fit and Fed – this vitally important scheme which will continue as after school activities when the holidays come to an end.
Loads of children experiencing sport and other related games in Riverside.
Ranu – also encouraging the youthful masses to eat some healthy nutricious food.
Bringing people together – Canoodle
Zhiwen Zhou was the executive chef who brought the culinary delights of the Orient to the Wyndham St Diner – Sharon Krause of the Believe – Credu project has been supported by the Eden Projects Big Lunch https://www.edenprojectcommunities.com/thebiglunchhomepage
SRCDC helps organisations and individuals in the local communities. SRCDC promotes people who wish to start up a business or try another career by providing the environment to allow people to test out their ideas.
Below is a gallery of the evening. A big thanks to all those sous chefs who helped Zhiwen and for the delightful company of the members of Riverside's family who were lucky indeed to consume the wonderful food.