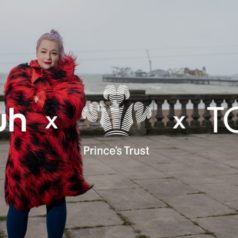 Do You: Prince's Trust x schuh x TOMS is back – 2nd – 4th March 2021
#DoYou is back! We've joined forces with our friends schuh and TOMS on a series of free LIVE inspirational talks and workshops to help you on your path into employment, training or setting up your own business. Across the three days of DO YOU (2nd – 4th March), the interactive workshops will be centred around mental health and will encourage self-development for your path forward. Mental wellness is more important than ever, so that's why we're working to connect young people to the help they may need.
Take a look at what's in store for the week! You can sign up for individual sessions or the full week.
Follow our link here to learn more and to sign up. See you there! > https://www.eventbrite.co.uk/e/do-you-week-toms-x-schuh-x-the-princes-trust-tickets-137994628649
Rhiannon Breeze
Prince's Trust Executive | Swyddog Gweithredol,
Prince's TrustThe Prince's Trust Cymru
16 Ocean Way,
Splott | Y Sblot
Cardiff | Caerdydd
CF24 5PE
07866 183294
Cryfder. Cyrsiau. Cyfle.
Confidence. Courses. Careers.
Sulafa at ACE (Action in Caerau & Ely) – free online youth session from anyone interested in Science, Technology, Engineering and Maths that people in the Iron Age used!
Curiosity-Youth-Club-poster

Learning to Advise course for staff members, volunteers or anyone who is currently working in an advice, guidance or support role.
The training will run one day a week with each session last about 2-3 hours, for approx. 6 weeks. Starting in March.
I have attached a document explaining the LTA training outcomes and what you will gain from taking part – as I said this will be adapted slightly to suit professionals. If you or someone you know is interested please can you pass this information on and get back to me
LTA-Session-Outline

You can find out more about the independent advisory group, its role, and their recruitment process here:http://bit.ly/JoinSWP_SIAG
Deadline is 12th February.  It is really important that people with a passion for justice and a critical voice that can challenge police practices get into this group. 
SWP-IAG-FAQs-05-02-21